Picking a living room color seems like it may be a daunting task. It gives rise to many questions with almost endless answers. As the living room is generally the room where one spends most of the time, infusing color into the place is quite challenging. There are multiple options like single color palette, neutral colors, bold colors, bright colors, combined colors, contrasting colors, etc. This is enough choice to confuse anyone. For your convenience, we have grabbed a list of inspiring ideas for living room designs colors for you. They will set the mood in the living room for the coming years as well.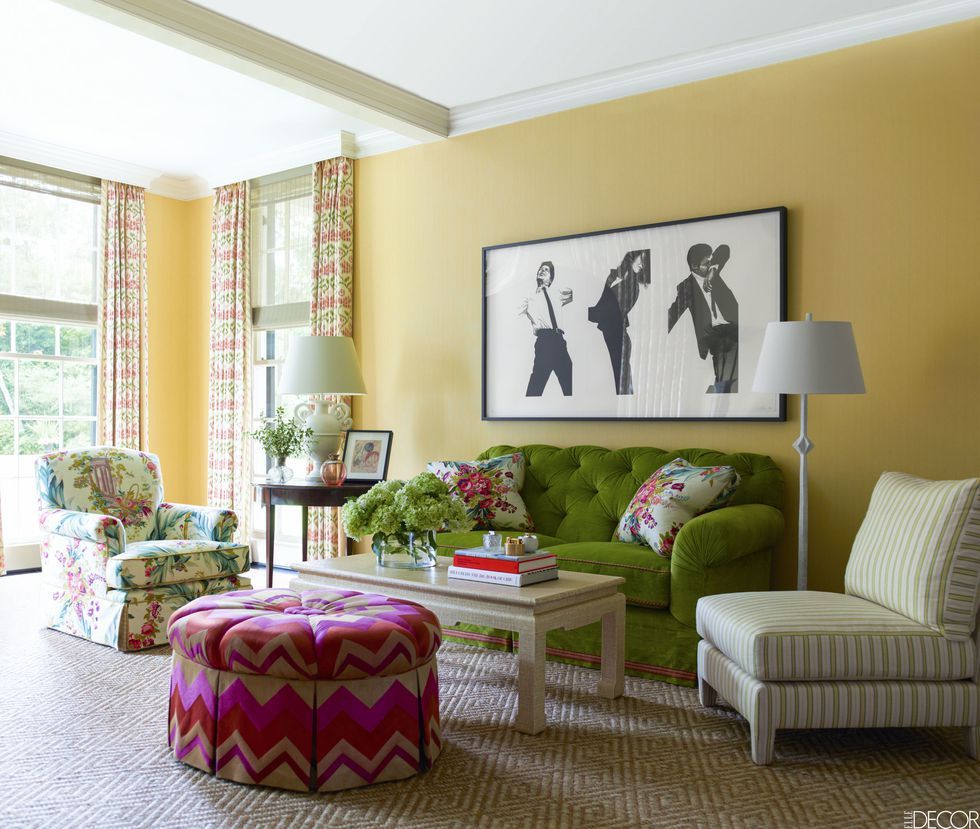 Make it a calming oasis with neutral colors
There is no hard and fast rule that living room designs colors should be bold and bright. The use of a neutral monochromatic color shade can impart a calm neutral look to the living room. Neutrals play the role of making the living room into a calming shelter, to give you solace when you return home after a long day's work. It's better sometimes to shift from neutral shades of grey and use beige, white, and stone hues. You can use cream colored furnishings to get a nice result. This will create an oasis-like ambiance in your living room.
Energize with a green color palette
If your living looks tired, energize the space with the color green. Green is a refreshing color and it helps to bring nature inside. It also has a broad spectrum. You can use anything from gentle mint to a vibrant green shade, or a tonal green. You can use whatever suits your taste and goes with the overall décor of the room. Using greens as your living room designs colors will help to enliven the space. You can also pair sage green with orange to give your living room an energy boost. As you contrast with complementary colors, they will make a bold color statement.
Shine the living room with yellow shades
Using different shades of yellow as living room designs colors delivers the best results when you want to create a sunny décor theme with a feel-good vibe. It is because golden shades of yellow have an inherent link with the morning sunlight. Yellow also stands for brightness, energy, and warmth. So, you may use anything from zingy citrus and earthly yellows to bursts of rich ochre to give your living room a new life.  Combining yellow with brown and accessorizing the yellow shade with black also yields great results. Or, combine yellow with a neutral color palette for a dramatic effect.
Make it serene with shades of blue
Blue resembles the sky and the sea. It stands for clarity, pureness, and intuition. Using blue as living room designs colors gives the place a subtle and welcoming vibe. The best part of blue, is it loves other hues. You can pair shades of blue with white or cream. It will deliver a fresh, crisp, and summery feel into the space. If you wish to go on the darker side, you can use navy blue for that. Navy blue is an evening surprise, and your living room will look at its best when you return home in the evening.
Infuse warmth with red
Using red in living room designs colors is a powerful move. No matter how you mute red, it will always make a dominating statement. It is dramatic, invigorating, and passionate, while also imparting a unique look. Despite this, red is a hue that one can easily live with. Because of its inherent warmth, red imparts a cocooning effect in the living room. You can combine the deep clay red color of the walls with mossy green accessories to impart a warm contrasting feeling in the living room. Alternatively, you can pair red with grey, or red with orange to give the living room a wonderful look.
Make it impressive with an accent wall
It is a great idea to have different colors on the walls of the living room. The living room is a heavily trafficked place inside the home. One must give serious thought when choosing living room designs colors. Regardless of the overall décor style, accenting a wall of the living room is a great way to make it impressive. You can make a bold statement by coloring one wall of the living room with hunter green color. Other walls can have any light or neutral shade. Although hunter green is extremely bold, it will not have an overbearing effect when painted on one wall. It will rather pop up the place.
Contrasting holds the key
Combining contrasting colors holds the key to the successful implementation of living room designs colors. When you use contrasting colors in the living room, it delivers a cohesive and symmetric design. You can start with a base color and then create some contrast with different colors via furnishing and accessories. Alternatively, you can use different colors on adjacent walls. You can combine brown, turquoise, and white to resonate with the earth and the sky.  You can also infuse a coastal elegance with blue tones on the walls.
Combine complementary colors
Red & green, yellow & purple, orange & blue, and green & magenta are some of the complementary color combinations that one can use for living room designs colors. They will make your living room cozy and comfy in the winter and impart a shady feeling in the summer months. Also, introduce woods and leathers to make a bold statement. You can further enhance the effect by using furnishing and accessories of complementary colors. It will make the space glamorous for years to come.
To end with
Now that you have a list of inspiring living room designs colors ready, your job is much more simple now. You have to pick one from the above list, get your overalls on, grab the roller and start the painting job. You could also just hire someone to do the painting. Either way It will spruce up your living room and improve its look.
Check More Here – These bedroom color design ideas can create a dreamy space