Everyone needs space to rest, relax and for intimacy at the end of the day. And no one likes to wake up early and be sleepy in the morning. While many factors influence the quality of sleep, bedroom color is one of them. Color also happens to be a cost-effective way to upgrade a bedroom, especially for those who really want to DIY. How does a person go about choosing a bedroom color? Here is a list of 8 inspiring bedroom color design ideas that will provide you with an easy and instantaneous update of the bedroom. Read on!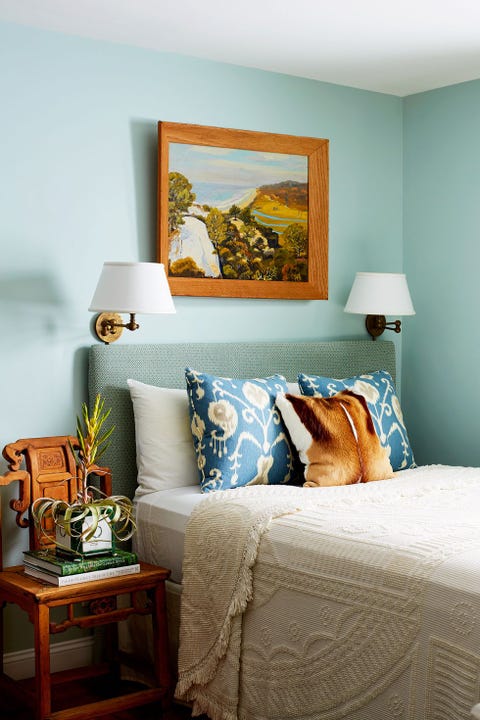 1. Make the bedroom modern and luxurious with grey
Grey happens to be the perfect backdrop to any bedroom style. It compliments many colors, imparts a dramatic look and can also lull you to fall asleep. When you use grey in your bedroom color design ideas, it delivers a soft and tranquil vibe and also improves the bedroom ambiance.  You can use different shades of grey to make the bedroom modern and luxurious. If your bedroom receives some sunlight, you can use soft shimmering grey to make it appear more spacious and much lighter. Shifting to the darker sides of grey, will make it appear more sophisticated and elegant.
2. Make it comforting with pink
Pink is playful and delivers warmth and comfort. It also infuses calmness and peace into a space, and that is vital for a bedroom. When you include shades of pink in your bedroom color design ideas, it adds softness and an eclectic style. Pink shades also help to balance comfort and energy in the bedroom. If you prefer a flirty and romantic vibe in the bedroom, then you should paint the walls in rose pink and consider accessorizing with warm copper or light gold accents. This trendy color combination can impart a classic vibe and elevate the bedroom ambiance. Alternatively, you might use a slight blush of pink.
3. Make the bedroom radiating with coral
Combining orange, pink, and red in various quantities, coral can have both stimulating and soothing effects. It happens to be a happy, playful, and vibrant color and has surprising versatility. As such, it works seamlessly with a wide variety of decorating styles. Nothing can make your bedroom radiate like coral. When you include coral in the bedroom color design ideas, it appears brighter in a brightly lit environment and appears mute when the illumination is dim. If you like, you can mix different hues for a vivid or a mute look.  You can also use coral for accenting the bedroom.
4. Embrace with beige and cream
Beige and cream is going to be the new color palette for modern and minimalist bedrooms. These are dependable, subtle, warm, and versatile and they can complement any bedroom decor theme. These are the most vital elements of any bedroom color design ideas and have the power to deliver an inspiring bathroom. These earthy warm tones will make one feel stable and grounded, while also balancing calmness and energy. Using a taupe shade will impart a crispy vibe in the bedroom and further inject a warm feeling into the space. Popping it up with matching furnishings and pillows delivers an amazing look.
5. Spruce up with purple
Purple stays outside the conventional stream. It reflects how the sky gets covered with the mesmerizing lavender tone of dusk. Including purple in the bedroom color design ideas is a great choice. Purple has the power to calm the body and mind. Whether one needs a powerful pop or if you are looking for something more subdued, purple can deliver everything. It comprises a wide variety of shades from neutral to bold and can infuse a unique personality into the bedroom. You can combine it with dusky shades of grey to make your bedroom warm and relaxing. Accessorize with floral colors for a unique look.
6. Make it soothing by combining indigo and white
Combining colors in your bedroom color design ideas is vital to creating a unique personal sanctuary. When you combine different colors for coloring the bedroom wall, it reflects your personality. Indigo and white delivers a soothing color palette. As indigo is warmer than blue, it delivers all the properties of blue and also creates a warm ambiance. Pair it with white and the combination will appear sharp. This will result in a cozy ambiance in the room. You can color adjacent walls with indigo blue and white, or can accent a wall with Indigo blue. Both yield a sparkling result.
7. Make the bedroom restful with green
Green happens to be an adaptable element in any bedroom color design ideas. It is best known as restful and soothing for the eyes. It also delivers an organic feeling to the bedroom environment by connecting the space with the outside world. Include other natural elements like wood and shells to heighten the organic feeling. Coloring the bedroom walls with green also makes the place serene and helps you to have quality sleep. As green is versatile, you might use different shades to give your bedroom a wonderful look.
8. Wow with white
White is the right option when you look for simple and sophisticated bedroom color design ideas. White is great for delivering a crisp and clean bedroom. It provides a versatile base and you can complement a white bedroom with any light and dark shades, to give the best look. Balance it with rich wood tones and bright-colored accessories. The best part of using white is it goes well with traditional, modern, and even bohemian themes.  Moreover, white is a good reflector of light. It makes the bedroom look airy and more spacious.
Before we part
Studies reveal that some colors go well with our moods and personalities. Before you opt for any bedroom color design ideas, you should note that light and muted colors are generally the best for bedrooms. However, one should also address the furnishings and other accessories to reap the best upgrade benefit to go with all your ideas.
Check More Here – 7 Common Bathroom Tap Problems and How To Fix Them